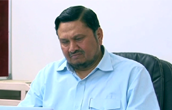 ZHIPL is a leading steel fabrication industry with a broad range of experience in the manufacture of highly complex steel structures.
We produce a complete line of bridge structures, from plate girder bridges found in highway overpasses and interchanges to complex bridges such as arch, bascule (drawbridge), cable-stayed, lift, railroad, suspension and truss designs. We also offer additional heavy/complex steel structure fabrication.
Our diligent professionals are extremely competent to comprehend client requirement and work in close coordination to deliver the same.
The company was established under the able guidance of Mr. Zakir Hussain who has 30 years of industrial expertise in this field. Owing to his strong business acumen and knowledge we have been able to progress further in our business domain. clients' turn to our unmatched capabilities to meet their complex design-build requirements. As the recognized industry leader in the fabrication, design, engineering, and erection of structural steel throughout India, the core priority of our company is to successfully exceed client expectation by focusing innovation, knowledge and commitment on every commercial, industrial and public structure we assemble.
We have two state-of-the-art facilities in the Delhi NCR and with more than 22,660 square feet of fabrication workspace on 25 acres. Our plants have close proximity to highway transportation, giving us substantial reach into the India market for projects. While ZHIPL is a new company, it has roots that go back over 25 years at our facility in Zakir Hussain.
ZHIPL operations encompass more than 4 facilities and 500 employees in India. Its businesses are engaged in a wide range of industries, including Steel Bridge, Heavy Steel Structure Fabrication, Pre- Fabricated Building, Floods Gates, Silos, Steel Shuttering Plates, Scaffolding Items, Road Sign Board & Road safety Equipments.
A Bright Future
Outfitted with comprehensive computer numerical control ("CNC") and cutting-edge paint equipment, ZHIPL provides up to 30,000 tons of fabricated structural steel for simple and complex bridge or heavy steel fabrication projects throughout the India on an annual basis.
As the need for India infrastructure improvement continues to grow, the opportunities for ZHIPL will too. With the renewed commitment to our customers and business partners, we look forward to new challenges while honoring the memories and accomplishments of the past.